New images have come up from Cannes. I posted most of them via facebook cause i was a bit tired so I posted them all in the gallery there's still more so be sure to view our gallery on our next update. Also news has been posted on our facebook page so be sure to view that as well.


Gallery Link:
Movies > Two Lovers and a Bear > Cannes



Gallery Link:
Movies > Two Lovers and a Bear > Stills


Gallery Link:
Photoshoots > 2016 > Cannes


Gallery Link:
Movies > Two Lovers and a Bear > Set

Gallery Link:
Movies > Two Lovers and a Bear > Poster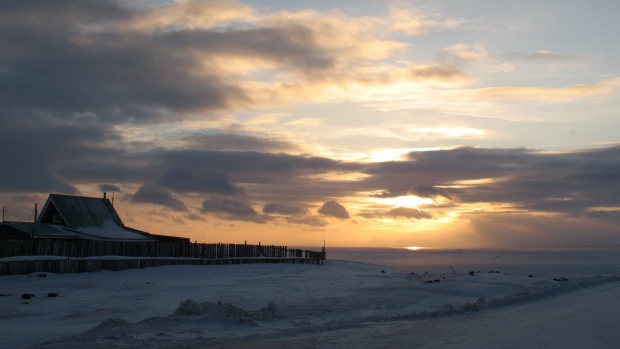 Moviemakers for the film Two Lovers and a Bear are asking Iqaluit City Council for help in turning off street lights during filming, saying it's too expensive for them based on quotes they've received from the power company.
Apex will be the site of an important scene of the $8.8 million movie – where the main characters meet the polar bear for the first time.
Unit manager Francis Choquette told council the company was quoted a cost of $22,500 by the Qulliq Energy Corporation to shut off 15 lights in Apex, but they need to switch off 50.
"I've been on this project for over two years trying to push them to film in Nunavut, and now it's happening," Choquette told council Tuesday night.
"If I showed [the quotes] to my producer, I don't think he will come to Iqaluit [for future projects] because of the cost."
When Choquette approached city council this week, both the film company and the city had mistakenly thought approval had to come from QEC. In fact, any approval for turning off the lights would have to come from city council.
The film company will send a delegation to Iqaluit's next council meeting on March 24 to formally submit its request.
Qulliq's president Alain Barriault said the process is more complicated than just flipping a light switch. Linesmen will have to climb each light pole individually and disconnect the power source.
"We wouldn't arbitrarily just turn them off just to meet somebody else's convenience," Barriault said.
"We have an agreement whereby we provide a service to the City and we can't go turning it on and off unless it's something that they're requesting of us. So any agreement we would come in to would have to be with our client, not with the film company."
Iqaluit streetlights give off coloured light
The reason the film crew wants the lights turned off is because they are sodium­-based and give off an orange-­green hue. They'd prefer to switch those off and instead install lighting towers with their own brighter, whiter, lights.
Councillor Joanasie Akumalik asked Choquette why they wouldn't just buy a better camera, given the money they're willing to spend on solving this problem.
"I wish it was that simple," said Choquette. "I think it's the latest technology in cameras. The camera is very sensitive. We did some tests in Montreal [with the same bulbs as on those lights] and it comes out orange and green. So it doesn't work. We can't shoot with those lights on."
The movie is scheduled to start filming around Iqaluit next month, with the bulk of it being shot in Apex April 13 to 23. Only four of those days will be night shoots.
Choquette said they will leave their own lights up during some periods and in certain places, even when they're not filming. Still, some in Apex are concerned.
"My concern is the safety of my child, and other children in Apex, as well as adults who may be on the road come dark. It's just a general safety concern," said Apex resident Kerry McCluskey, who added she's had some close calls with collisions, despite driving slowly.
"Things happen. It gets dark at 7:30 p.m. and kids aren't necessarily home at that point. I don't want to throw a wrench into their plans, but what's more important to me than filming is that my kid and other kids in Apex are safe."
The film company will hold a public meeting on Tuesday, March 17, at 7 p.m. at Okpik Hall in Apex to discuss the proposal with residents.
Source: CBC.ca
The Quebec filmmaker Kim Nguyen finished Friday shooting his next film, Two Lovers and A Bear, which took place largely in the far north of the Arctic cold. Back on set "demanding, but oh so magical."
Working in the film industry for over 40 years, the producer Roger Frappier (Seducing Doctor Lewis) lived all kinds of adventures at the mercy of film sets he frequented. Despite all this baggage of experience, he said he had a "unique experience" going to spend a month in Iqaluit, Nunavut.
"The conditions were difficult with the extreme cold, but it's been one of the finest shooting I have experienced for a long time, tells Roger Frappier in an interview to the Journal.
"By living in this setting ice for a month, everyone who worked on the film the feeling of having experienced something unique and special." During the weeks in the Canadian North, director Kim Nguyen (Rebel) and his team faced a blizzard and temperatures in -30º every day.
"I would still we chose the right time to shoot the film, said Roger Frappier.
"In April there, the snow is still present, but the temperatures are starting to warm up a bit. If we had stayed one month earlier, we would have faced even colder temperatures. We had very cold anyway, but we were lucky in the circumstances. "
Featuring the Canadian and American Tatiana Maslany Dane DeHaan (the Orphan Black series) (The Amazing Spider-Man 2), Two Lovers and A Bear recounts the meeting between two broken souls in a small Northern city.
"It's a love story that becomes almost psychedelic because of the setting in which it takes place, says director Kim Nguyen.
"I must say that everything exceeded my expectations for this shoot. Both actors were excellent and the images we shot were beautiful. It was not easy to shoot there, but we could have reproduced this decoration anywhere else. "
As its title suggests, A Bear and Two Lovers (two lovers and a bear) also features a polar bear. A bear that producers brought in Vancouver and who shared many scenes with the actors of the film.
"We shot the scenes with the bear in Timmins, Ontario, because we could not make air travel to Nunavut, says Roger Frappier.
"We made sure not to put anyone in danger, but at times, the players were within six feet of the bear. What is rather amusing is that it is a polar bear that is not
accustomed to cold because he has spent his life in Vancouver. There is even a night we had to stop filming because the bear was too cold! "
Two Lovers and A Bear will be in theaters in 2016
Source: journaldemontreal.com
Synopsis:
We are in the Great North, near the North Pole, in a modern town where about two hundred souls live precariously in minus fifty weather, and where roads lead to nowhere but the endless white. In that town, Lucy and Roman are in love and try to give meaning to their lives. But tragedies in Lucy's past force her to escape the ghost that haunts her. In a week, she will be gone. Roman can't follow her to the South or all Hell will break loose, and he can't deal with Lucy's departure… Together, they will make a leap for life, a leap for inner peace. That adventure, which seemed simple and safe, turns into a real journey, a quest, a struggle for life.
New pictures added to the gallery from the Set, Stills and Posters…
Frappier, whose film career spans four decades, wrapped up filming on Two Lovers and a Bear earlier this month, after completing more than two months' worth of shooting in Iqaluit and Ontario with award-winning director Kim Nguyen.
The film, set in Iqaluit and the surrounding landscape, still needs another six months of post-production work, but Nguyen and Frappier have put together a promotional segment for the Cannes Film Festival in France, May 13 to May 24, to create advance buzz and hopefully land some distribution deals.
"We're showing a two-minute demo at the Cannes Film Festival, for the buyers," Frappier said, just before departing for the festival this month.
France-based distributor TF1 International will be selling the movie in Cannes for markets outside of North America.
"We hope the movie will be shown in all parts of the world," Frappier said.
A cast and crew of 100 assembled in Iqaluit at the end of March to shoot most of the movie, which features Canadian actor Tatiana Maslany, star of the TV series Orphan Black, and American Dane DeHaan, who has starred in a string of feature films, most recently The Amazing Spider-Man 2.
The filmmakers are planning for a spring 2016 release.
Two Lovers and a Bear, as the title suggests, "is a big love story," Frappier said.
"It's a movie about redemption at the same time. It's an adventure film. I think this movie is so full of life that I hope people will have a real experience watching it — and that it will give them something they've never had in a theatre," he said.
Source: nunatsiaqonline.ca